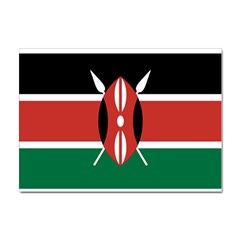 CASE: Cancellation of Removal for Non-Permanent Resident
CLIENT: Kenyan
LOCATION: Respondent resides in St. Louis, MO / Kansas City Immigration Court in MO
Our client retained our firm back in March 2010 from St. Louis, MO. She came to the United States in 1999 from Kenya with a J-1 exchange visitor visa. She has one U.S. citizen son who has serious food allergies, asthma, and eczema, and she has not had lawful status in the United States since her J-1 visa is expired. She was subject to the two-year foreign residency requirement. She was a single mom. The father of her child left her while she was pregnant.
The first thing we did for her was file an I-612 J-1 hardship waiver. She would not be able to adjust status without that. And our firm won the hardship waiver for her.
She was then placed in removal proceedings and on July 12, 2011, our client appeared at her master calendar hearing at the Kansas City Immigration Court in Missouri, and Attorney JP Sarmiento represented her at the hearing and sought cancellation of removal relief for non-permanent residents.
For a non-permanent resident to be eligible for Cancellation of Removal, the alien must prove that s/he:
• Has been physically present in the U.S. continuously for ten years prior to the issue date of the Notice to Appear;
• Has been a person of good moral character;
• Has not been convicted of any crimes that would make her/him inadmissible;
• Her/his removal would cause exceptional and extremely unusual hardship to her/his U.S. citizen or permanent resident spouse, parent, or child.
The Court scheduled the individual hearing date on March 14, 2012.
Our firm worked with our client for the application and supplemental documents. We called her several times for supporting documents, and obtained the medical records from her son's hospital. Obviously the central issue in this case would be whether or not our client has established exceptional and extremely unusual hardship to her qualifying relative, her U.S. citizen son.
As mentioned above, our client's U.S. citizen son suffered from serious food allergies. He also suffers from eczema and was treated for asthma, though his asthma was in remission for a period of time. Our firm eventually was able to gather supporting documents and prepared supplemental evidence with multiple exhibits, and arranged them pursuant to the specific elements of Cancellation of Removal eligibility.
We arranged the medical documents for our client's son as well. We arranged all her physical presence documents according to the specific year they referred to, and filed them with the Kansas City Immigration Court. We then prepared the client for her hearing, and focused on the extreme and exceptional hardships her U.S. Citizen son would face.
At the Individual Hearing on March 14, 2012, Attorney JP Sarmiento represented our client at the Kansas City Immigration Court. Testimony then followed and we questioned our client extensively on the hardships her U.S. Citizen son would face. Our client was prepared, was very consistent, and was honest in her answers. She was detailed with the specific medical issues of her son. She testified that her son's food allergies present a very serious health issue for her son in that he suffers anaphylaxis. However, the Court could not render the decision at the end of hearing due to the exhausted annual quota for Cancellation relief.
On October 3, 2012, the Kansas City Immigration Court granted our client's cancellation of removal relief. The Court specifically noted that our client's son's food allergies, in the aggregate with his asthma and eczema, together with the fact that our client has been a single mother since pregnancy, would be an exceptional and extremely unusual hardship for him should he return to Kenya. The Judge mentioned that food labeling and medical treatment is not as readily available as in the United States. Finally, after 13 years of hard work and perseverance, our client is now a permanent resident (green card holder) of the United States.
FREE CONSULTATIONS
If you have any questions, please fill out the free consultation form below, and we will respond as soon as possible privately. 
For other cancellation of removal success stories, please click here.
For other success stories, please click here.
Also feel free to contact our office anytime for free consultations.