Obama Talks Immigration with Mexico's New Leader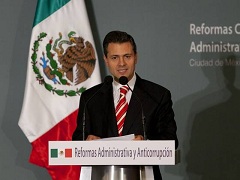 The recent presidential election has not only provided another term for President Obama, but also allowed him to have another chance to improve our immigration legislation. One of the goals of the Obama administration is to have a better legislation that will provide better border security and at the same time a pathway to citizenship for those illegal immigrants who are already in the country.
President Obama and his aides are more open than ever to work in partnership with Mexico in order to 'increase economic competitiveness in both countries, promote regional development, advance bilateral efforts to develop a secure and efficient 21st century border, and also address other common security challenges'.  Both countries will soon have these concerns addressed especially after that visit by President-elect Enrique Pena Nieto to President Obama at the White House days ago.
Source: USA Today
If you have any questions, please fill out the free consultation form below, and we will respond as soon as possible privately.