Another Fee! Implementation of New Added USCIS Immigrant Fee Effective Feb. 1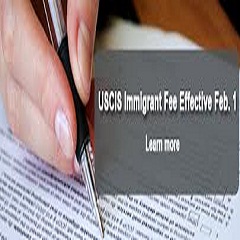 Another added fee for the USCIS. Foreign nationals who seek permanent residence in the United States should now also pay $165 to have their request be processed.
The USCIS has worked closely with the DOS so they can start implementing the new immigrant fee by February of 2013. They were able to come up with the said amount by taking into consideration the costs of processing immigrant visas in the U.S. The fee would cover handling, filing and maintenance of the immigrant visa package, and production and delivery of the permanent resident card.
After the applicant receives their visa package from the DOS and before they depart from the U.S., they should make the payment online. This payment process is supposed to simplify and make everything centralized. However, applicants should take note that this fee is separate from what the DOS would charge you with their other immigrant visa fees.
So yes, unfortunately, another fee.
You can check out more details about it here.
Source: AILA.Org
FREE CONSULTATIONS
If you have any questions, please fill out the free consultation form below, and we will respond as soon as possible privately.