Republicans, Democrats Ready for Broad Immigration Reform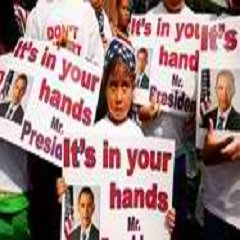 The United States Republican and Democratic senators already got the outline of a broad immigration reform that would determine the fate of thousands of illegal immigrants in the country. One of the things included is a path to "earned legalization" for the immigrants.
Senators like Sens. John McCain and Robert Menendez have expressed their shared views on finding better solutions for those around 11 million people in the U.S. with illegal status. A comprehensive package of immigration reforms by a bipartisan group of six senators is revealed to be doing significant progress. This progress will be a good follow-up to the immigration reforms plans President Obama is expected to unveil in Las Vegas.
Some of the senators, even those who are not in the bipartisan group, are also optimistic about the compromise the parties are doing in order to attain a comprehensive law on immigration that the country can live with.
Source: Los Angeles Times
FREE CONSULTATIONS
If you have any questions, please fill out the free consultation form below, and we will respond as soon as possible privately. 
<a href="https://plus.google.com/107743308565341841259?rel=author">Google</a>
<a href="https://plus.google.com/109631653288081090975″ rel="publisher">Google+</a>