Two Immigration Law Figures to Watch in Congress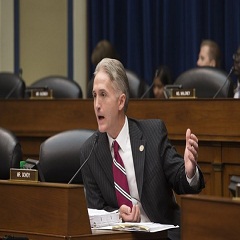 Eight Republicans and five Democrats will comprise the U.S. House of Representatives Subcommittee on Immigration and Border Security. With plans of a more comprehensive immigration reform by the Obama administration, this subcommittee will have a great impact on the progress of the reforms.
Among the influential members of this subcommittee are U.S. Rep. Trey Gowdy and U.S. Rep. Zoe Lofren. Represetative Gowdy is the newly-appointed chairman of the immigration committee in the GOP-lead House of Representatives. He has been in the state and federal prosecutor arena for 16 years now and got into congress in 2010.
Representative Zoe Lofren on the other hand is the Ranking Democrat on the immigration committee. She was the chairwoman of the said committee until 2010. This U.S. Representative has a solid background in law and immigration since she was a former Santa Clara County supervisor, immigration lawyer and instructor.
Together with the other representatives who will be bringing with them their solid backgrounds and experiences, Reps. Gowdy and Lofren will share the limelight in the days to come. Millions of people may have their hopes, or frustrations, on immigration issues and policies affected by the decisions of this subcommittee.
Source: Inside Bay Area
FREE CONSULTATIONS
If you have any questions, please fill out the free consultation form below, and we will respond as soon as possible privately. 
<a href="https://plus.google.com/107743308565341841259?rel=author">Google</a>
<a href="https://plus.google.com/109631653288081090975″ rel="publisher">Google+</a>