Signs of Shift on Immigration Among GOP Rank and File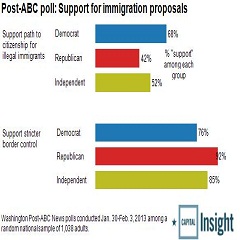 Since the most recent elections, political writers and some Republican politicians seem to have shown a 'change of heart' in their openness to comprehensive immigration reform. This is one of the reasons why the immigration reform plans of President Obama is suddenly earning the approval of the nation—well, at least from most of our citizens.
Even if support from Republicans is still not in a grand scale, the few who are not "all in" are at least still giving out their "possibly, yes" approval. Some of these Republicans may not be all out with their support on President Obama's immigration reform but at least, some of them understand the rationale of providing legal status to a multitude of deserving people.
The recent poll for 2013 shows a 48 percent approval in providing a pathway to citizenship for undocumented immigrants. In the previous six national polls, only 38 percent of Republicans are favoring the reform plans. This support from Republicans does not come without hurdles though, certain qualifications have to be met to merit the pathway to citizenship. Nonetheless, signs are good that this bipartisan support will push forward comprehensive immigration reform.
Source: The New York Times
FREE CONSULTATIONS
If you have any questions, please fill out the free consultation form below, and we will respond as soon as possible privately.