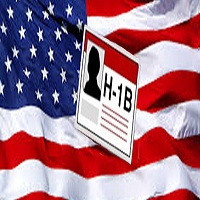 The H1B visa classification permits a foreign national to work in the United States for a temporary period. It is available for offers of employment that are in a specialty occupation. A person may hold H1B status for a maximum of six years, and it may be issued in increments of up to three years by the USCIS. An employee may receive extensions of H1B status beyond six years in certain circumstances, if s/he is in the process of applying for employment-based permanent residence (commonly referred to as the "green card").
H1B visas are numerically limited, with a total of 85,000 visas available each fiscal year at the time of this writing (May 2013, 20,000 of these visas are restricted to individuals who have received master's degrees or higher from U.S colleges or universities). This limitation is referred to as the H1B cap. 
Degree 
To qualify for the H1B visa category, the prospective H1B employee must
Hold a U.S. bachelor's or higher degree, or the equivalent. The person must at least hold a U.S. equivalent 4 years bachelor's or higher degree from an accredited college or university.
If the foreign degree is 3-year bachelor's degree, 3-year work experience in the same or similar field /occupation can be considered one year of additional education.
The individual must be fully qualified to lawfully perform the duties of the position offered. For example, in occupations that require licensure or professional credentials (such as a doctor, dentist, attorney, CPA, architect, registered nurse etc.), the individual must already hold such qualification before the H1B visa petition can be filed.
For you to qualify to accept a job offer in a specialty occupation you must meet one of the following criteria:
Have completed a U.S. bachelor's or higher degree required by the specific specialty occupation from an accredited college or university
Hold a foreign degree that is the equivalent to a U.S. bachelor's or higher degree in the specialty occupation
Hold an unrestricted state license, registration, or certification which authorizes you to fully practice the specialty occupation and be engaged in that specialty in the state of intended employment
Have education, training, or progressively responsible experience in the specialty that is equivalent to the completion of such a degree, and have recognition of expertise in the specialty through progressively responsible positions directly related to the specialty. 
Specialty Occupation 
What jobs are classified as Specialty Occupation? What Jobs /occupation qualify for the H1B visa? There are several areas and categories which may qualify for specialty occupation such as
Engineers
Doctors/Physicians
Managers
Financial Manager
Analyst
Business Managers
Sales Managers
Art
Entertainment
Lawyers
CPA
Architect
Health Care professionals
Technicians
Others 
The job must meet one (NOT NECESSARILY ALL) of the following criteria to qualify as a specialty occupation:
Bachelor's or higher degree or its equivalent is normally the minimum entry requirement for the position
The degree requirement for the job is common to the industry or the job is so complex or unique that it can be performed only by an individual with a degree
The employer normally requires a degree or its equivalent for the position OR
The nature of the specific duties is so specialized and complex that the knowledge required to perform the duties is usually associated with the attainment of a bachelor's or higher degree.* 
Requirements and Steps 
Once you find a US employer who agree to employ you and file for your H-1B petition, several steps have to be done before the actual filing.
1.      FEIN Verification
If this is the first time the company is filing an H-1B, they have to undergo an FEIN verification step first for H-1B purposes. This step is mandatory, and is needed even if a company has been in business for a while. A copy of an official government document with the company's name and FEIN number should be emailed to the Department of Labor at lca.chicago@dol.gov for this verification. Afterwards, you would get an email regarding the approval of the verification which states:
"Thank you for submitting the requested information related to the FEIN for         (company). The FEIN has been verified as a valid nine-digit FEIN assigned by the       Internal Revenue Service (IRS). The employer may now submit a new ETA Form         9035E for processing."
From that point, the LCA could be filed.
2.      Labor Condition Application
The prospective US employer must then file a Labor Condition Application at http://icert.doleta.gov/. This is an online application certifying the prevailing wage for the position, which is specific to the position itself and its geographic location. The approved Form ETA-9035, Labor Condition Application (LCA) will then be included with the Form I-129, Petition for a Nonimmigrant Worker. This is now done through the ICERT portal.
This application includes certain attestations, a violation of which can result in fines, bars on sponsoring nonimmigrant or immigrant petitions, and other sanctions to the employer. The application requires the employer to attest that it will comply with the following labor requirements:
The employer will pay the beneficiary a wage which is no less than the wage paid to similarly qualified workers or, if greater, the prevailing wage for your position in the geographic area in which you will be working.
The employer will provide working conditions that will not adversely affect other similarly employed workers. At the time of the labor condition application there is no strike or lockout at the employer place of business. Notice of the filing of the labor condition application with the DOL has been given to the union bargaining representative or has been posted at the place of business.
3.      H-1B Filing
Upon DOL certification, the employer files the USCIS Form I-129, the required filing fee, and other supporting documentation (including the approved LCA) to the USCIS. Take note that we don't need the entire I-129 form for the H-1B. As of the time of this writing (May 2013), we just need the following:
Pages 1-7 of Form I-129
Pages 11-12 of Form I-129 (H Classification)
Pages 17-19 of Form I-129 (H-1B Data Collection and Filing Fee Excemption Supplement)
Unless specifically exempt under the law, the employer must pay USCIS filing fees. The filing fees are as follows (payable to U.S. Dept. of Homeland Security):
$325: I-129 Filing Fee
$500: Fraud Prevention Fee
$750 (if 25 or less employees) or $1500 (if more than 25 employees): American Competitive Act Fee
Consular Processing (Only to Those Outside the US or Will Be Outside Prior to Start Date on H-1B)
Once the Form I-129 petition has been approved, the beneficiary who is outside the United States may apply with the U.S. Department of State (DOS) at a U.S. embassy or consulate abroad for an H-1B visa. Our firm always provides the beneficiary not just the I-129 approval, but also a copy of the petition itself, for the consular officer's reference. Some DS forms and specific fees must also be submitted, depending on the policy and procedures of the specific US Embassy abroad.
The consul may also require certain documents from the foreign worker for purposes of the petition. Following are typically required document for H1b petition purpose.
Copy of passport.
Copy of degrees /educational certificates / transcripts.
Letter of current employment.
Copy of previous employment /experience.
Copy of any certifications/achievements. 
Period of Stay
As an H-1B nonimmigrant, you may be admitted for a period of up to three years. Your time period may be extended, but generally cannot go beyond a total of six years, though some exceptions do apply under sections 104(c) and 106(a) of the American Competitiveness in the Twenty-First Century Act (AC21).
Your employer will be liable for the reasonable costs of your return transportation if your employer terminates you before the end of your period of authorized stay.  Your employer is not responsible for the costs of your return transportation if you voluntarily resign your position. You must contact the ServiceCenter that approved your petition in writing if you believe that your employer has not complied with this requirement.
Cap Gap 
So you're an F-1 student on Optional Practical Training (OPT). You just came off graduation. You were in this stressful period trying to look for a job. And you got it. Something related to your degree.
So this bought you a year.
You work hard hoping your employer petitions you for an H-1B. The quota was still open when you started in, let's say, June. You were hoping that they sponsor you for an H-1B in that fiscal year, before the quota closes, while your OPT is still valid.
But that was not the case.
You still work for the employer close to a year a later, still working hard, then finally they decide to petition you for an H-1B on April 1, a couple of months or so from the expiration of your OPT.
You've heard of this thing called the cap gap. You wonder what it means. What happens to your immigration status between the expiration of your OPT and October 1?
Below are some FAQs around the topic of the cap gap.
Can I stay in the US during this cap gap period? Yes.
What is my status? F-1.
But my OPT card expired, will I get an OPT extension card? If not, what is my proof that my F-1 is extended? You'd have to go to the ISO officer of the school you had your most recent I-20, and have them reissue the I-20 with an OPT extension mark, which essentially extends your F-1 status.
Can I continue working? Yes you can, and you in fact should, because the validity of your OPT is also conditioned on certain periods that you should be working for a company doing a job related to your field or degree.
Okay. I know I can stay and I know I can continue to work, but during that gap, will I continue to get paid, or do I wait until October 1 before I get paid? I often get this question. You should continue receiving your salary from your employer during this period. They are allowed to. Your OPT was extended.
What about my driver's license, can I extend it? If so, how long? Honestly, that's the tricky part as some BMV admin people are used to the actual card – EAD cards or OPT / EAD cards. But, and this is a hassle because you have to go there again at some point, they should extend your DL up to at least September 30. Yes, it's a hassle, because you go through that and pay the fees to get a mere 3 – 4 month extension on your card. But unfortunately that's the case. I went through it myself when I was on OPT before. 
Our Services
Our firm will prepare and file all necessary steps for the whole H-1B process. We start with the FEIN verification, prepare and file the Labor Condition Application, and eventually the H-1B petition.
We will coordinate with the company in drafting the employment letter, from making sure the job description is complete enough to warrant a "specialty occupation" finding by the CIS, to explaining and complying with the Labor Condition Application posting and process.
We will provide suggestions as to the supporting documents we would need to strengthen the case, from an organizational chart to copies of resumes of previous employees on that position, to job postings or advertisements about that position in the past, we will make sure all possible issues are covered.
For extensions, change of status cases, cases that involve consular processing and exceptions to the cap, we will explain these issues thoroughly to you and address them in the filing, from submitting a brief arguing those issues, showing maintenance of status, providing and suggesting documents that could explain the exemption, to filing all the paperwork and guiding the beneficiary in the visa stamping and consular processing phase.
FREE CONSULTATIONS
If you have any questions, please fill out the free consultation form below, and we will respond as soon as possible privately.