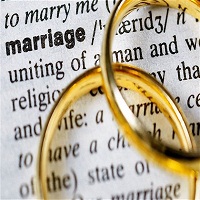 Getting a green card through marriage to a U.S. Citizen is one of the most common, if not the most common, ways immigrants obtain a green card.
Those who entered legally and overstayed can sometimes get a green card after they marry a US Citizen. Some people who entered legally and then worked illegally, provided they never filled our a form I-9 in their job application and checked that they were US Citizens, can also get a green card after they marry a US Citizen provided there are no other inadmissibility grounds.
Typically the main issue for immigration officers is whether your marriage is bona fide. They would ask
how you met, where you met, when you met, your living conditions, whether you have met each other's parents, employment schedules of each etc. They don't have any specific rules and usually rely on several factors.
What I mean is that there are no rules on how long a couple must have known each other, or even specific living arrangements. It's a subjective process but obviously, the more evidence you have, the higher your chances of meeting the standards are.
The marriage to a US citizen green card process should be properly prepared before filing, during the pendency of filing, and prior the interview.
Before filing the application, you should already start gathering bona fide marriage evidence, whether it's a joint lease, pictures together with friends and family, joint utility bills, joint bank statements etc.
While the application is pending, the three months or so before you get interviewed, continue gathering these evidence as you await the interview. Immigration officers would like to get a copy of the evidence you have, so don't just bring a photo album and original joint documents (though some offices are still willing to make copies themselves), make copies of them before the interview and put them in a "bona fide evidence" file to be submitted to the immigration officer.
Though every couple are in different situations (recently got married, have to live apart currently due to work obligations etc.), officers first look for joint financial documents such as joint bank statements, and, if you live in an apartment, a joint lease. From there other documents are usually asked, such as joint utility bills, joint tax returns, photos with friends and family etc.
Our firm has several success stories on marriage-based green card cases. You can view them all in two places on our site. One is our success stories page, which has several marriage-based green card cases especially on the family immigration section. And also on the "marriage-based green card" success stories category.
Common Fact Pattern (Beneficiary in the US)
Alien enters the U.S. legally on a visa (student, tourist, H-1B, etc.)
Alien overstays status (or remains in status)
Alien never works, or works illegally (but does not fill out Form I-9 and misrepresent U.S. citizenship), or works legally on an H-1B or other valid visa, or remains in status (F-1 for example)
Alien has no major criminal convictions (maybe a speeding ticket or two) that makes him or her inadmissible
Alien marries a US Citizen in good faith
Alien applies for green card
Alien gets receipt notice, fingerprint appointment, interview notice, work permit
Alient gets interviewed
Alien gets green card
Specific Steps and Timeline
Day 1: Alien and USC files the petition, green card application, work permit, and advance parole application simultaneously
Day 7 to 14: Alien receives the I-485, I-765, and I-131 receipt notice, while the USC receives the I-130 receipt notice
Day 7 to 30: Alien receives the fingerprint and biometrics appointment
Day 14 to 30: Alien goes for fingerprinting and biometrics
Day 30 to 90: Alien and / or USC receives a Request for Evidence, if any
Day 45 to 90: Alien and USC receives an interview notice (could be longer but this is on average)
Day 60 to 90: Interview (could be longer but this is on average)
Day 90 longer: Green card issuance (unless a request for evidence was issued at or after the interview, in which case you have to respond before the set deadline and await a decision)
The Forms
Form I-130
Form I-130 is the marriage petition of the USC to the alien spouse. This is also the form used for other family petitions but for purposes of this page, we will limit it to USC marriages. The purpose of this petition is for the USCIS to acknowledge your marriage and allow the alien to proceed with green card processing. This is where the bona fide nature of the marriage is assessed. It is suggested that evidence of the relationship be submitted together with this form, though copies of those could be brought instead at the interview. This is a two-page form as of the time of this writing, and has a filing fee of $420, also at the time of this writing.
Form I-485
Form I-485 is the green card application itself. It asks for the basic information of the beneficiary / alien, basic biographic information, entry, names of other members of the family, and children if any. There are several yes no questions in this form, mainly determining whether the applicant is eligible for a green card. Entry and the bona fide nature of the marriage are not the only factors that determine whether one is eligible for a green card. The yes / no questions on the I-485 tackle most of the other factors. Whether you are a public charge, have certain criminal convictions making you inadmissible, have a final order, are subject to the two-year foreign residency requirement and have not waived this requirement, are all questions asked at the I-485 which may also determine whether you can get a green card or not.
Form G-325A
Form G-325A is the biographic information of both the petitioner and beneficiary. Here, information about each's parents, previous marriages, addresses for the last five years, and employment information for the last five years are stated. Officers review the G-325A information to check how long you lived together, how feasible it is that you have met each other on a certain date, based on the previous addresses listed. They can derive a lot of questions from this form especially based on the employment and residence information.
Form I-765
Form I-765 is the form used for employment authorization or work permit. You may file this with a simultaneous filing of the I-485 adjustment of status application. (C)(9) is the code you put on form I-765 with a pending I-485 application.
Form I-864
Form I-864 is the Affidavit of Support Form. The US Citizen petitioner fills this out. A short biographic information (name, address, date of birth, place of birth, social security etc.), income information, and employment information are some things the forms asks for.
Supporting documents submitted with this form are a copy of the US Citizen petitioner's latest tax return (it used to require the last 3 tax returns, but now the petitioner just needs to include the latest one), copy of the latest W-2 form, and recent pay stubs or an employment letter. Note that most of the time, the first two pages of Form 1040 is enough for the tax return requirement.
The form's intention is to make sure you the beneficiary are not a public charge. The immigration service has a minimum requirement for income depending on how big the family household is. If the income is not enough, there are two options. One, a co-sponsor can submit another I-864 so the USCIS can combine the income. Or, proof of assets could be used to make up for the deficit (cash in the US Citizen's bank account for example). The value of the assets used should be three times the difference between the petitioner's annual income and the minimum income requirement for the size of the household.
Interview
Interviews vary per case, per CIS office, per officer. In my experience, I had accompanied clients whose interviews only took five minutes, and I had some where the couple was separated and the interview took over two and half hours.
A lot of factors are involved before one gets interviewed simply based on the information the officer sees on the forms, including their residential information as seen on Forms G-325, age difference, previous marital record for either party, income or lack thereof of the petitioner, etc. It's a very subjective standard.
Typically, the I-130 and I-485 interview has a couple of standard steps
Identification
Basic Immigration and Petition Documents
Oath
Form I-130
Bona Fide Marriage Questioning
Form I-485
Submission of Evidence
The officer first administers an oath wherein both parties swear that they are going to tell the truth, the whole truth, and nothing but the truth.
The officer then proceeds by asking for identification from both parties. A driver's license or passport will first be submitted. The CIS officer would only need this during the interview.
The US Citizen usually submits his or her driver's license or state ID. You then would need to submit your passport or driver's license if you have one. Take note that the driver's license information is also used to verify the address information you put on the forms, in particular the G-325A. This information could also play a factor in assessing the bona fide nature of the marriage. If you assert that you live together and the address on your driver's license is different from what you assert to be your common address, it may be an issue.
The officer then asks for basic case related documents.
For the US Citizen, a birth certificate or US passport (if born here), or naturalization certificate or US passport (if naturalized here) would have to be submitted. The whole point of this is to show that the petitioner is indeed a US Citizen. For you the beneficiary, you have to provide your foreign passport and birth certificate.
They then usually proceed with Form I-130 and G-325A. They would ask the US Citizen for the name, birthday, place of birth, address, social security number, parents' names, employment information, previous address, whether a petition has been filed for someone before, whether there were previous marriages etc. Same information would be asked of you, as well as you more recent entry and manner of entry to the United States, whether you were in removal proceedings before, any prior visas, etc.
Now comes the questions about the bona fide nature of your marriage. Officers can go in different directions on this. They can ask simply ask five questions on this part, or hundreds. Let's say you have been married for several years and have several US Citizen children, chances are the questioning won't be too long, though that still depends on the officer. But let's say you have been married for a short time, with a big age gap, with the US Citizen having no income, and you have different ethnicities, and there has been a record of previous marriages, chances are there will be more questioning.
There is a wide range of topics for the bona fide marriage questions, but typically they go with the following areas:
Often Cited Case Law 
Below are some often cited case law that can be applied to various situations in a marriage-based green card case.
Matter of Hashmi

. 24 I&N Dec. 785 (BIA 2009): An alien's unopposed motion to continue ongoing removal proceedings to await the adjudication of a pending family-based visa petition should generally be granted if approval of the visa petition would render him prima facie eligible for adjustment of status. In determining whether good cause exists to continue such proceedings, a variety of factors may be considered, including, but not limited to:  (1) the Department of Homeland Security's response to the motion to continue; (2) whether the underlying visa petition is prima facie approvable; (3) the respondent's statutory eligibility for adjustment of status; (4) whether the respondent's application for adjustment merits a favorable exercise of discretion. and (5) the reason for the continuance and any other relevant procedural factors.
Matter of Lovo

, 23 I&N Dec. 746, 748 (BIA 2005): The relevant analysis involves determining whether the marriage is valid under a state's or a country's law, and whether the marriage qualifies under the INA.
Matter of Hosseinian

, 19 I&N Dec. 453 (BIA 1987). USCIS will recognize a common-law marriage that is permitted under a state law and that satisfies the specific requirements of the state law
Matter of Laureano

, 19 I&N Dec. 1 (BIA 1983): Samples of evidence of bona fide include, but are not limited to, proof that the beneficiary has been listed as the petitioner's spouse on insurance policies, property leases, income tax forms, or bank accounts, and testimony or other evidence regarding courtship wedding ceremony, shared residence, and experiences.
Matter of Boromand

, 17 I&N Dec 450 (BIA 1980). In the absence of evidence to support a finding of a fraudulent or sham marriage or evidence showing the legal dissolution of the marriage at the time of the adjustment, the denial of an adjustment of status application or the subsequent rescission of such grant cannot be based solely on the nonviability of the marriage at the time of the adjustment application
Matter of Ceballos

, 16 I&N Dec. 765 (BIA 1979): A religious marriage is considered a valid marriage for immigration purposes if it is recognized by the sovereign in that country or state as a valid marriage.
Bark v. INS

, 522 F.2d 1200 (9th Cir. 1975). A sham marriage is one that the parties enter into not to establish a life together as husband and wife but rather to circumvent immigration laws… The key is whether the parties intended to establish a life together at the time of their marriage… Subsequent conduct after marriage, no matter how unconventional, does not prove lack of marital intent
Our Services
Consultations with our firm are free. So if you have any questions at all with regards to marriage based green cards, feel free to call, email, or even visit our firm.
Should you eventually wish to retain our firm, we are experienced in preparing, filing, and accompanying clients in marriage-based green card cases. Our firm has had clients all over the United States, and we have accompanied them in interviews as well. In fact the biggest percentage of our success stories are in this field of immigration law.
Our firm will fill out ALL the forms for you and will simply have you sign in the end. You will be given a list of all documents needed (marriage certificates, birth certificates, I-94, visa etc.), and we will put together the entire application for filing with the immigration service. We will also send you a copy of the application, and you will be notified upon our receipt of the receipt notice, fingerprint and biometrics appointment, and interview notice.
Note that throughout the representation, you can call, email, or even visit our firm FOR ANY QUESTIONS you may have. 
Our firm will also prepare you for the interview. As we have also done in the past, our firm also can accompany you at the interview, regardless of where you are located in the United States. 
FREE CONSULTATIONS
If you have any questions, please fill out the free consultation form below, and we will respond as soon as possible privately.