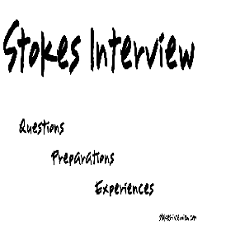 What is a Stokes Interview?
A stokes interview is an interview process for I-130 marriage-based green card petitions where the US citizen spouse and the foreign beneficiary are separately interviewed. In this case the US citizen is usually interviewed first, asked a bunch of questions, then the foreign beneficiary is called next to be asked mostly the same questions, in which the officer would match the answers, and check for discrepancies.
Reasons for Stokes
There is no objective basis why an officer would conduct a Stokes interview as opposed to a simultaneous interview. It's very subjective.
Not even a marriage that occurs after removal proceedings are initiated would automatically render a Stokes interview. That actually was what I thought before until some of my clients who got married after removal proceedings were initiated were still interviewed simultaneously.
But a few possible reasons that I noticed that resulted in a Stokes interview are as follows:
Age Gap
A big age gap between theUSCitizen petitioner and foreign beneficiary is NOT an automatic cause for denial. No. There are no straightline restrictive rules like that.
But typically the bigger the gap, the more likely that a Stokes interview would be conducted. The more likely that the couple will be separated.
Marital History
Next is marital history for BOTH theUSCitizen spouse and foreign beneficiary.
If the US Citizen spouse had divorced recently, the closer the divorce date is from the current marriage, the more likely a Stokes interview will be conducted.
If theUSCitizen spouse had several divorces in the past (two or more), then a Stokes interview also becomes likelier.
If theUSCitizen spouse had at least a divorce in the past and had a history of petitioning a foreigner (filed an I-130), Stokes is also likely.
If the beneficiary was previously married to a US Citizen and got divorced, especially if a previous I-130 filed for the beneficiary was withdrawn or denied (in which case you again have to prove the bona fide nature of that first marriage), Stokes is likely.
If the beneficiary had several marriages in the past, or if the divorce is very recent, Stokes is also likely.
Living Arrangements
If the couple does not live together, again, this is NOT an automatic cause for denial. Cases can still get approved, depending on the bona fide marriage evidence presented and the reasons for living apart.
BUT, there is very high chance that a Stokes interview will be conducted.
Again, some couples have to live apart for various reasons. School and employment are some of them. These not only have to be explained at the interview upon interrogation, but also presented through evidence, whether through a job offer letter, pay stubs, or school transcripts.
Removal Proceedings
As you know, there is a higher burden when a marriage occurs after removal proceedings are initiated. A bona fide exception letter is needed, plus proof of a bona fide relationship upon submission of the application, and more of those at the interview also.
Though some couples are still interviewed together despite being married after removal proceedings are initiated, there is a bigger chance of separation.
Lack of Income (or Absence of Income) of the US Citizen Spouse
When theUSCitizen petitioner has little or no income, it is also more likely that the officer will interview you separately. It is what it is. Again, these are not clearcut rules, but merely observations we have based on the hundreds of interviews we've been too for marriage to US Citizen green card cases.
Conclusion
The preparation you should have for marriage-based green card interviews should always be as if you will be interviewed separately. As I mentioned, there is no clearcut rule on what would enable the officers to separately interview you. Who knows, it could be the officers' personal preference.
So think of all possible questions that they may ask and discuss it with your spouse. Some details may be taken for granted, but officers vary, and it's best to be prepared for anything.
FREE CONSULTATIONS
If you have any questions, please fill out the free consultation form below, and we will respond as soon as possible privately.